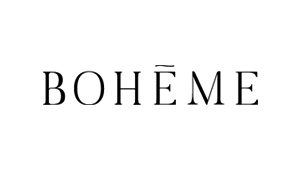 Boheme Candles
Bohéme is a clean-burning, vegan, non-toxic candle and fragrance brand inspired by the modern bohemian woman — adventurous, spirited, and always true to herself.
More about Boheme Candles
Bohéme Fragrances started with a dream. What if we could create artisanal candles to evoke memories of our most cherished adventures in life? We knew we wanted our candles to be made by hand in small batches, and to ensure that they were sustainable and phthalate-free. We knew that we wanted to use only the finest quality ingredients, such as custom-crafted oils, cotton wicks, and all natural wax. And we knew that we wanted to partner with a world-renowned boutique fragrance house to bring our vision to life.
The unique experiences and backgrounds of our partners enable us to create evocative candles that bring your senses to life. This labor of love has been our all-consuming passion for the past five years. And our muse throughout has been the Bohéme Woman — adventurous, free-spirited and always true to herself. Boheme candles are designed to take you on a journey, with each box and candle shining a spotlight on a moment seen through her eyes.
Our muse throughout has been the Bohéme Woman -adventurous, free-spirited and always true to herself.
From the luxurious colored glass vessels to the carefully detailed packaging, every element of Boheme Candles reflects the distinctive spirit of a singular location, making these beautiful, expressive candles equally perfect to gift or display. The elegant logo mark uses fluid lines to reflect the timeless spirit of the Bohéme Woman while drawing in the viewer's eye. This is echoed in the design of our emblem — a dynamic icon that evokes an exotic view of a unique locale, further reinforcing the sense of stylish and sublime adventure that drives our story.