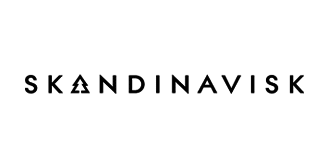 Skandinavisk Candles
Skandinavisk Candles celebrate the uniqueness & diversity of Scandinavia. Made from a blend of perfume and vegetable wax with a 100% cotton wick & engraved beechwood lid & hand-poured into a painted glass vessel.
More about Skandinavisk Candles
The Scandinavian countries are consistently ranked as having the happiest people with the best quality of life. The Skandinavisk candle collection celebrates this uniqueness and brings to life a blend of aromas reminiscent of the Scandinavian life. Explore a range of Skandinavisk candles and diffusers like the Skandinavisk Jul, that combines baked cinnamon, cloves, gingerbread and warm glogg, symbolic of a Scandinavian Christmas. Or discover the aroma of tea, baked strawberry cake, rose petals and wild mint that make up the Skandinavisk Hygg, and the orchards, wild berries, blackcurrants and raspberry flowers that are blended to form the Skandinavisk Fjord candle. Enjoy Skandinavisk and all the fragrances they have to offer today. For other exotically beautiful aromas, explore Candle Deliriums collections of Coqui Coqui and Cire Trudon as well!