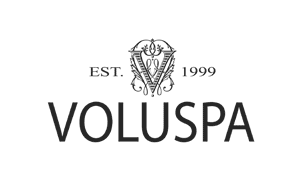 Voluspa - Sparkling Rose Candle
Description & Details
Voluspa Sparkling Rose Candle: Envision life through rose colored glasses with an effervescent cocktail of innocence and guile in a charming scent, bursting with the fizzy flash and sparkle of Pink Prosecco resting against the sweet purity of delicate, pink Rose Petals in a scent so disarmingly lovely that one is left giddy, enchanted and utterly intoxicated by its glistening beauty…
Voluspa's unique coconut wax blend is hand-poured into an 18 oz. glass vessel and is topped with a glass lid, adorned with Vermeil detailing that keeps the candle dust-free when not in use. The single wick allows you to enjoy fragrance throw for 100 hours.
Voluspa's Vermeil Collection beckons images of gilded silver plate with pure gold, inspired by historic use in the finest jewelry of precious metals. Vermeil will delight the senses further, unveiling modern pastels on reflective mirrored surfaces with each product revealing a surprise luxe gold interior. The design focal point, the star embellishment, is translated on the packaging, while the custom Voluspa designed glass captures the antique pressed glass style of the 1920's. Bring home a Prosecco Champagne Rose Candle today!
Customer Reviews
love it!

my most favorite scent wrapped in the most beautiful package that burns cleanly the longest.