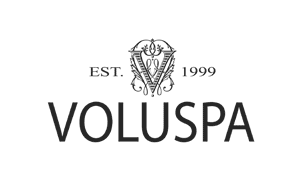 Voluspa - Casa Pacifica Octagon Tin Candle
Description & Details
Voluspa Casa Pacifica Octagon Tin Candle: Under a cloudless, sunny, blue sky, waves roll in and out along a seemingly endless shoreline. Surfers glide into shore effortlessly. A gentle marine breeze fills the wide-open windows of a small beach house and caresses it with the scent of Sea Salt, California Driftwood and Shore Brush. Get a California beach house vibe anytime, anywhere- feel the sand in your toes and breeze in your hair. Hold the candle to your ear, listen carefully- and you just might hear the tide rolling in…
Voluspa Vermeil 12.7 oz. Octagon Tin Candle has a 2-wick configuration complete with decorative snuff lid to help keep the creamy coconut wax dust-free when not in use. This elegant container gets a second life when used for flowers or trinkets when candle is gone. Made with no phthalates, parabens, sulfates and are not tested on animals.
Voluspa's Vermeil Collection beckons images of gilded silver plate with pure gold, inspired by historic use in the finest jewelry of precious metals. Vermeil will delight the senses further, unveiling modern pastels on reflective mirrored surfaces with each product revealing a surprise luxe gold interior. The design focal point, the star embellishment, is translated on the packaging, while the custom Voluspa designed glass captures the antique pressed glass style of the 1920's.
Customer Reviews
Casa Pacifica- Great Ocean Scent!

LOVE THIS SCENT! I have been a loyal buyer of Volupsa candles for years. I previously thought the Laguna candle was the closet "beach scent" but the new Casa Pacifica is so much more! It reminds me of days spent at the beach and the ocean breeze!