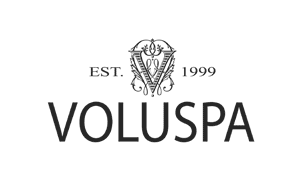 Voluspa Candles
Voluspa has become synonymous with exotic luxury. Invite Voluspa fragrances into your home and say hello to exotic luxury. Shop for Voluspa products now!
More about Voluspa Candles
Voluspa originally began in 1999 in the kitchen of Troy and Traci Arntsen. From burned pots in their California home, they created their famous Voluspa Scents. Voluspa fragrances are luxurious scents crafted with intoxicating perfume oils with a strong sense of art, beauty and culture. Inspiration from their travels has led them to pursue a passion for botany and essential oils. Their discoveries led them to create Voluspa, which in turn has positioned themselves as one of the premier luxury candle brands in the world. With striking packaging and extraordinary scents, Voluspa Home Fragrance products are found in prestigious retailers and are a staple in the homes of Hollywood's elite. Discover Voluspa candles for your home or office as well as our well-loved gift sets from Voluspa. Alternatively, be prepared this holiday season and choose your own gift from our Voluspa holiday collection. Finally, let luxury loose with Voluspa diffusers. Shop for Voluspa fragrances today!