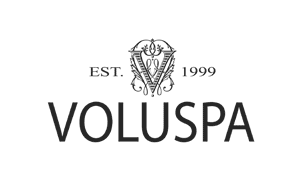 Voluspa - Makassar Ebony & Peach 3 Wick Grande Candle
Description & Details
Voluspa Makassar Ebony & Peach 3 Wick Grande Candle: Take in the deep sensual darkness of wood paired with fruit. Inhale the scent of solid Black Ebony and Mahogany with the succulence of ripe Peaches and Apple Blossom. Like discovering an overflowing fruit orchard in the deepest, darkest enchanted forest - imagine this irreverent scent combination, so appealing in its darkly, unexpected, juicy delight. A Voluspa classic, feel free to pick it.
The Voluspa Vermeil Grande Candle is a decadent 36 ounces of highly fragrant Voluspa proprietary coconut wax blend with a triple wick configuration. Complete with embossed lid, this elegant container gets a second life when used for flowers or trinkets when candle is gone. Made with no phthalates, parabens, sulfates and are not tested on animals.
Voluspa's Vermeil Collection beckons images of gilded silver plate with pure gold, inspired by historic use in the finest jewelry of precious metals. Vermeil will delight the senses further, unveiling modern pastels on reflective mirrored surfaces with each product revealing a surprise luxe gold interior. The design focal point, the star embellishment, is translated on the packaging, while the custom Voluspa designed glass captures the antique pressed glass style of the 1920's.
Customer Reviews
Scrumptious

Oh my goodness, get this candle. This is the best smelling candle ever!