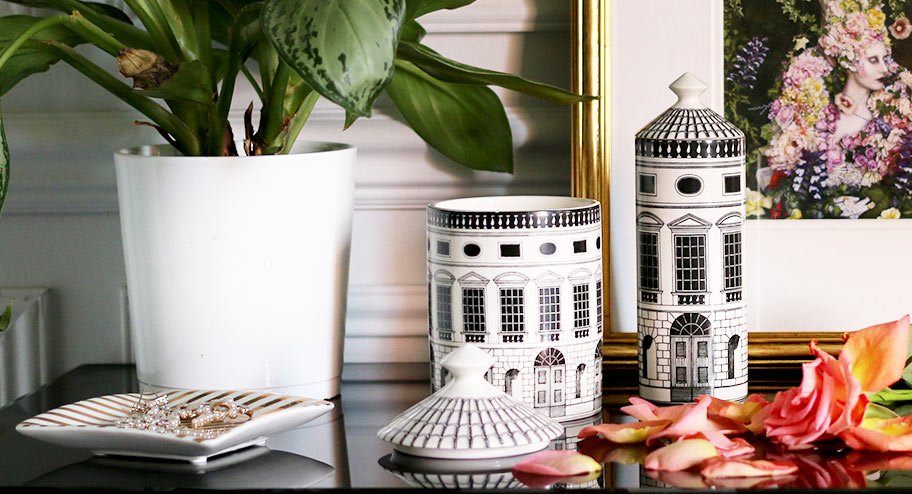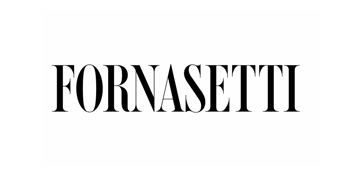 Fornasetti Candles
Fornasetti Candles combine Piero Fornasetti's iconic designs with fragrances created by world-renowned perfumers, poured into hand-crafted ceramic objects of art, made in the Fornasetti Atelier in Milan, Italy.
More about Fornasetti Candles
Piero Fornasetti
Artist, poet, designer, craftsman, printer - there is no one word that defines the unique talent of Piero Fornasetti. Born in 1913, he was the visionary whose work transformed the decorative arts scene in the 20th century. Revered for his masterful application of two-dimensional art to three-dimensional form, he adapted drawings to objects, furniture, interiors, theatre sets, fashion, magazine covers, and books, deploying humor and poetry in the way he wrapped the illustrations about the objects and spaces. He attended the Brera Arts Academy at an early age and expulsion from it in 1930 did little to deviate his trajectory to the heart of the Milanese art world. From his workshop, he produced lithographs for other artists, alongside his own work which he exhibited at the Milan Triennale from as early as 1933. After the 140 Triennale, his oeuvre took a new turn when he met Gio Ponti, a modernist furniture designer who invited him to decorate his pared-down pieces. Throughout the 40s and 50s they worked together, Ponti designing cabinets, desks, and chairs which Fornasetti then covered with intricate designs, creating illusions and trompe l'oeils around their forms. His early artistic forays were undertaken against a backdrop of emerging rationalism in architecture and surrealism in art. Classical architecture, the Renaissance and contemporary metaphysical painters such as de Chirico were a clear inspiration, but the carefully crafted motifs that these influences spawned, and the applications Fornasetti dreamt up, defied classification. Tema e Variazioni (Themes and Variations), a series of 500 adaptations of a black and white portrait of the opera singer Lina Cavalieri, became one of his best-known works. While others saw a visionary, Fornasetti saw himself simply as a decorative artist, albeit one with a boundless imagination for the application of his art. Design collaborations were natural to him: he worked with architects and designers on interiors as varied as the Arlecchino cinema, the Andrea Doria Trans-Atlantic Liner, the Sanremo Casino and the Dulciora Patisserie, and he collaborated with the ceramicist Bitossi and the fashion designer Liliana Berio. When he passed away at the age of 75, Fornasetti's catalogue of works numbered over 11,000, and now, Fornasetti candle.
Barnaba Fornasetti
In the hands of Piero's son, Barnaba, the Fornasetti tradition is preserved. True to form, Barnaba rebelled in early adulthood and for a period became estranged from his father, but even in doing so earned his respect - Barnaba's imprisonment during student riots in 1969 drove his father to the streets himself. Striking out on his own, Barnaba gained his own design experience through the hard graft of property renovation in Tuscany, before joining his father's studio in the 1980s. He took up the reins after his father's death in 1988 and immediately set about archiving his father's vast oeuvre. With his business head and creative heart, Barnaba has successfully kept the family name alive. While remaining faithful to his father's vision, he shows skill in the deft reinterpretation of his father's motifs, which he applies with precision and humor to existing objects in the portfolio and some he has designed himself, providing a creative continuum to satisfy the company's many collectors. Production of the core collection is still carried out in the Fornasetti atelier in Milan, on a small scale, by the hands of skilled craftsmen. Barnaba has also pursued new collaborations and licenses, recently developing a collection with the architect Nigel Coates. Other licenses include rugs, wallpaper, ceramic vases, and now, a home fragrance collection, with Fornasetti Candles.