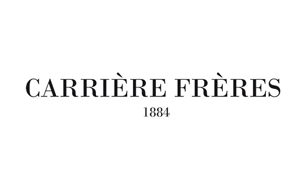 Carriere Freres - Lavender (Lavandula Angustifolia) Diffuser
Description & Details
Carriere Freres Lavender (Lavandula Angustifolia) Candle: She's also called "true lavender" and grows wild on the hills of Southern France. Purple shrubs of green grey leaves, lavender's fragrant flowers stand up straight, defying the elements with their colourful spikes. Its essential oil, of the highest quality, purifies and heals. Lavender is a grand and generous flower.
Inspired by the work of ancient herbalists, Carrière Frères' fragrance diffuser comes in the shape of an apothecary flask. It uses the octagonal shape of the label as inspiration. Made out of recycled and recyclable glass, the fragrance diffuser is recognizable to its bluish tint. More, Carrière Frères embraces a fully sustainable approach, through carefully sourced natural components: a 100% natural alcohol-base, a recyclable cork stopper and untreated rattan sticks. Together, they provide a sound base to further distil fresh botanical scents. Running on each face of the FSC-paper packaging (Forest Stewardship Council), a floral and botanical illustration also celebrates nature.
Customer Reviews
This Carriere Freres

I ordered the Carriere Freres Lavender Diffuser based upon my excellent experience with their candles. The description describes "pure essential oils" but also says that it's made with a "100% natural alcohol-base." So which is it, an oil or alcohol base? Answer: Alcohol base. I have had the good fortune to own many diffusers from various manufacturers from inexpensive to the most luxurious. The Carriere Freres Lavender Diffuser sits at the very bottom of all diffusers I've ever owned. Why? Because, like the description says, the base of this diffuser is alcohol based and not oil based. Whereas most diffusers last me an average of two months or so the Carriere Freres lasted a mere 1 week and 4 days.The only explanation is that the base of this diffuser is 100% alcohol so the evaporation rate is very swift indeed. Between the high cost and the fast evaporation rate Carriere Freres diffusers are not recommended. There are too many high quality diffusers that use pure essential oils and far exceed the longevity of Carriere Freres.