Product Nirvana Bliss Max24 Candle you are trying to view is not available anymore.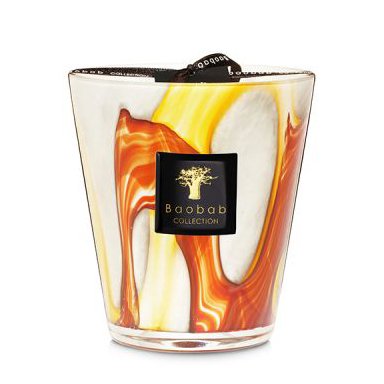 Description & Details
Baobab Nirvana Bliss Max24 Candle: poured into hand-blown glass sporting the joyful colors of red and yellow, the Bliss candle positions itself in your interiors as a flamboyant object of decoration.  Its fresh perfume, a blend of citrus, Neroli and Vetiver, invites you to experience lands full of greenery and sunshine.
Just like the baobabs overlooking the African savannah, Baobab Collection's candles and diffusers, made of either hand-blown glass or metal upholstered in precious leather, are known for their size and original designs. They are extraordinary objects providing an olfactory and aesthetic experience. Baobab Collection candles are hand-poured into glass that is hand-blown by master craftsmen, making each one completely unique. A black ribbon with the brand's logo is then added to every candle before it is wrapped in an elegant black box.
Here's a list of related searches:
Below are our recommended products for you.