Product Lime & Orange Petite Candle you are trying to view is not available anymore.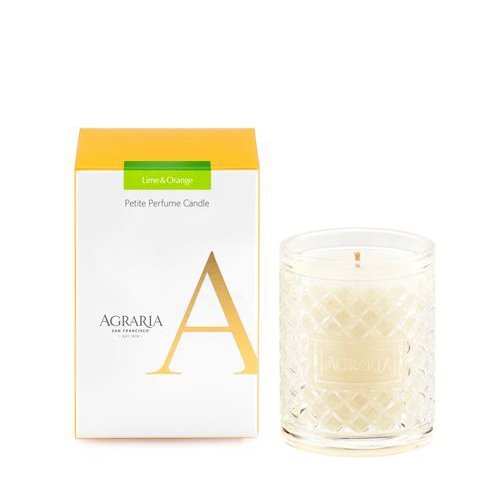 Description & Details
Agraria Lime & Orange Petite Candle is lime and orange blossoms, surrounded by the beauty of night-blooming sampaguita, honeysuckle, and jasmine. Amber woods, smoky patchouli and oak moss add depth.
Agraria's Petite Scented Candles are presented in a modern interpretation of the distinctive, woven palm leaf cases known by Agraria fans. The intricate pattern accentuates the movement of the flame to create a luminous and mesmerizing glow and includes a lovely silver-plate lid. Also, after the candle has burned completely, save the decorative glass to hold tea lights, keep small earrings organized, or organize loose hairpins.
Agraria Diffusers, Petite Diffusers, Room Spays and Scented Candles are formulated to mix and mingle marvelously. All fragrances smell as beautiful as they look. Exquisite packaging and custom-designed fragrance patterns establish Agraria as the ultimate for those who wish to live and gift luxuriously.
Below are our recommended products for you.