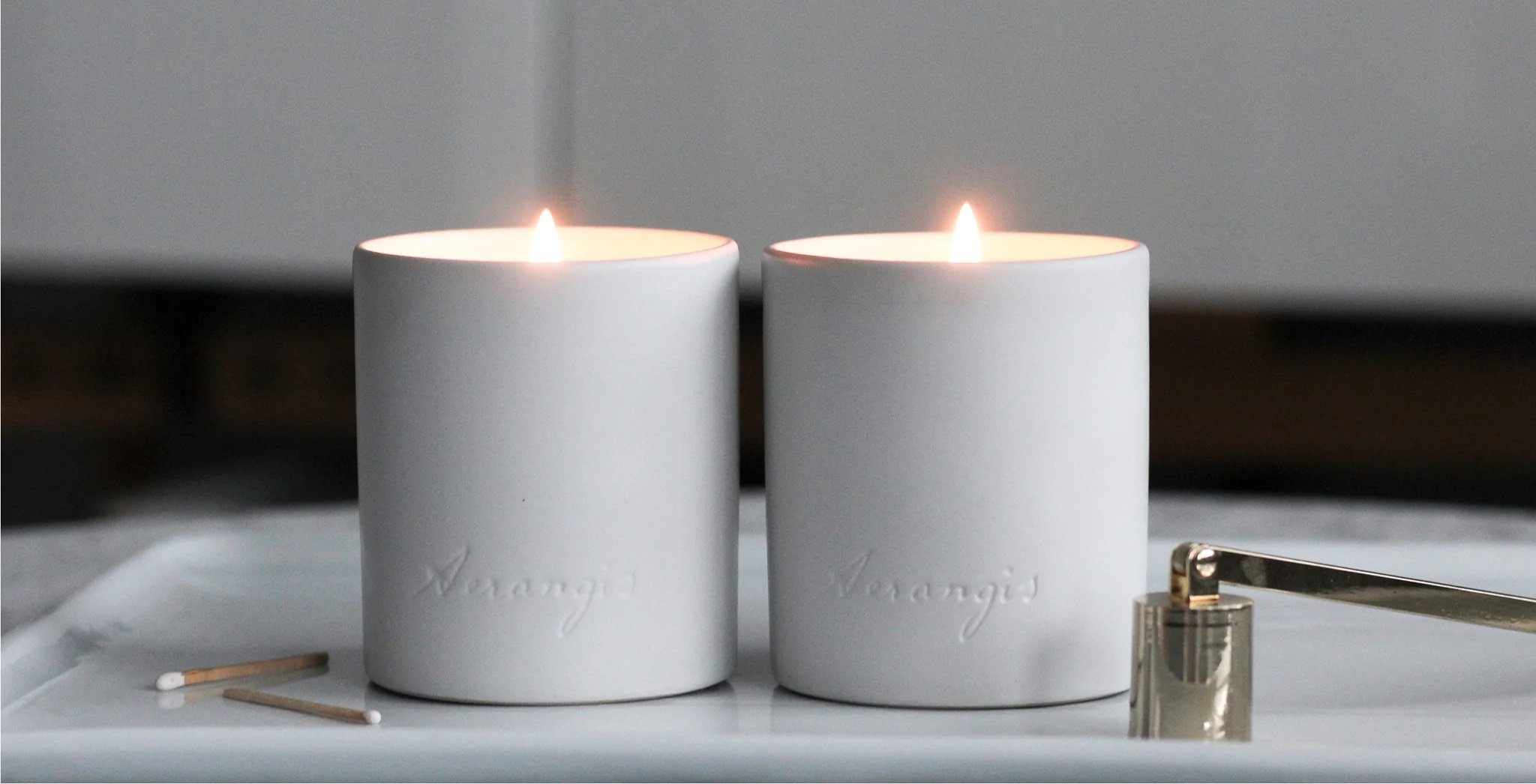 Aerangis Candles
Aerangis (Air-ANG-giss) began with a simple mission: to use the power of fragrance to unlock forgotten memories, & immortalize moments worth remembering.
More about Aerangis Candles
About Aerangis
Memories, Reawakened
Named for the white, star-shaped orchid that sparked her first scent memory, Aerangis (Air-ANG-giss) began with a simple mission: to use the power of fragrance to unlock forgotten memories, and immortalize moments worth remembering.
Working closely with world-renowned perfumers, they carefully craft each and every fragrance to either recall precious memories, whether they are theirs or yours, or create one that will evoke memories for generations. Aerangis signature scents are inspired by my most cherished memories, including a secret garden in Taiwan, a ranch and vineyard in upstate New York, and the spirit of New Orleans. While each candle begins with a personal recollection, the scent comes to life the minute you light the wick and make it part of your own unforgettable experience.
MEET ALICIA
"My obsession with scent began when I was nine in my grandfather's greenhouse, where he cultivated dozens of rare orchids. I spent many afternoons by his side, learning how to care for those orchids. To reward me for my interest, he gave me one of my own: an aerangis orchid with star-shaped flowers that released a beautiful scent every night during its bloom.
The scent of that orchid – fresh, delicate and soft – is forever intertwined with that cherished memory of my grandfather and the comfort I felt at his side. It is this profound connection between memory and scent that inspired me to create fragrances. After attending the Fashion Institute of Technology's cosmetics and fragrance program and working alongside the fragrance industry's top thought leaders in New York, I founded Aerangis, not just to relive my own cherished memories through scent, but to help others use fragrance to tell their own stories.
We believe that true luxury is a result of a conscious commitment to handcrafted craftsmanship, high quality ingredients, and uncompromising sustainability. These high standards are the heartbeat behind everything we do. We thoughtfully consider every detail to deliver an experience that embodies our values, and respects the sanctity of your home."
Safe For People & The Planet
Aerangis Candles believe in the beauty of fragrances in their most natural form. They work with world-renowned perfumers to craft luxurious scents using only non-toxic and allergen-free ingredients that honor the earth and our bodies.
Plant-Based Waxes & Lead-Free Wicks
For a clean burn and optimal scent diffusion, Aerangis candles are made with lead-free cotton wicks and a plant-based wax blend free from synthetic dyes, parabens, and phthalates. Each candle is carefully hand poured in small batches in the USA.
Thoughtful Details
Aerangis mission is to help you cultivate new scent memories, which is why each candle includes a biodegradable paper dust cover infused with wildflower seeds. Plant it in damp soil and watch it blossom into an entirely new scent experience.
Handcrafted Ceramic Jars
Handmade in small batches at the historic Shuili Snake Kiln in Taiwan where ceramics have been made for over a century, our artisanal clay jars can be repurposed once your candle has completed its journey.
Conscious Packaging
From recyclable boxes to certified compostable shipping materials, Aerangis packaging is 100% plastic-free.